---
---
September 7 2023
Report of Overseas Meeting Presentation Support (2023 1st term)
Bikmullina Zarina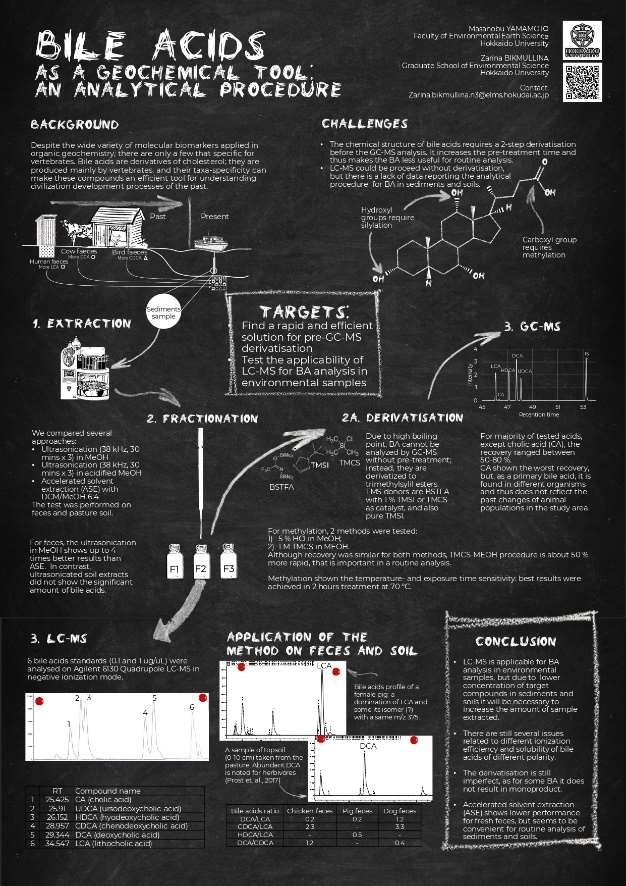 On 10-13th of July 2023, I was pleased to attend the Goldschmidt conference by European Association of Geochemistry. This unique opportunity to present the results of my research on the one of the top geochemical conferences was provided by Frontier Fund, and I sincerely appreciate their support. The meeting was held in Lyon Congress Center in France, but due to study activity, I was able to attend only online. Giving a talk from the marine station was an interesting experience for me.
Initially, I planned to show only the results achieved in developing the method of bile acids analysis in environmental samples. These molecules are taxa-specific, and they can be preserved in natural archives, such sediments and soils, for several thousands of years. Thus, bile acids are prominent steroid biomarkers that can tell us about the population changes and predominant types of animal husbandry of the past.
My presentation was scheduled for Tuesday, 11 July 2023, in the session 8h - Organic geochemical tools to understand life, climate, and environments through time. Organization committee of the conference even printed my poster and exhibited it in the poster hall.
Unfortunately, there were neither other presentations dedicated to faecal sterols, nor talks on investigation of my study area, Beppu Bay. However, I used the access to online conference program to listen to sessions that are helpful for the growth as a geochemist in general. Shucheng Xie from China University of Geosciences presented interesting work (especially steranes part). Nice speech by of Tripti Bhattacharya, the scientist from Syracuse University, also has to be highlighted. We know each other after one conference; her materials were close to those presented at the AGU-2022, but with more comprehensive data analysis.
As a point of curiosity, I also applied for second presentation in the section 14f – History of geochemistry. During the preparation of the method, I got some insights of the history of using steroids, such as sterols, stanols, stanones and bile acids, as biomarkers. It is an interesting story of transition from medicine and biochemistry to environmental (since 1960s) and palaeoenvironmental (since 1980s) science fields. This abstract was surprisingly set for oral session, and I gave a talk on 12th of July.
I liked the speech of Robert Marc Friedman from University of Oslo, as he showed the Goldschmidt's personality from an unexpected point of view.
Overall experience is strongly positive, however, I feel that online attendance a bit one-sided. I gained a lot by listening and reading posters, but I received less feedback than I expected, due to barrier between online and offline participants. I hope that experience of the Goldschmidth-2023 will help me to strengthen the knowledge, and communicate to leading scientists as equals on future conferences.


---
June 22 2023
Report of Overseas Meeting Presentation Support (2023 1st term)
Dai Bingguo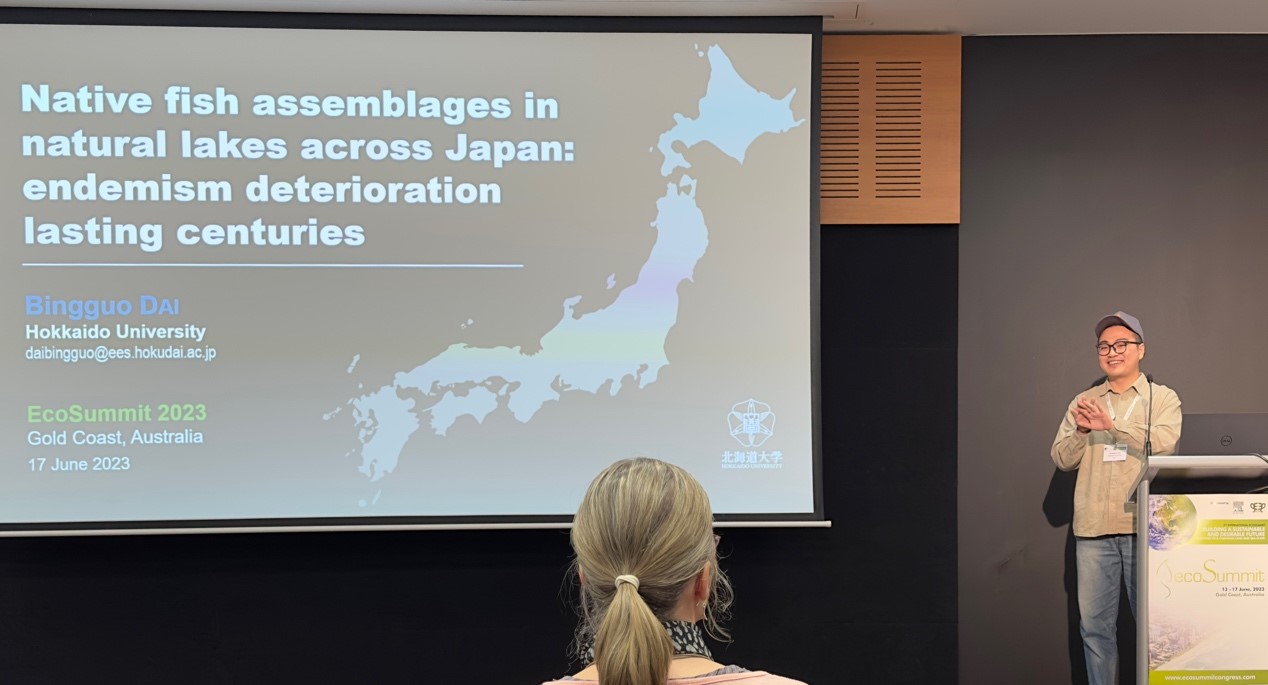 Chosen by the Overseas Meeting Presentation Support, I journeyed to Gold Coast, Australia in June 2023 for the EcoSummit 2023. This summit had been originally planned for 2020 but had to be postponed to 2023 due to the COVID-19 pandemic expansion. My contribution to the summit was a 15-minute oral exposition on June 17, focused on my ongoing research into the biodiversity of native freshwater fish in Japan in the Biological invasions session. I also engaged in an enlightening discussion on the issue of Asian carp invasion in the Americas with Professor Mark Morgan from the University of Missouri, USA. Furthermore, the summit proved to be a rewarding experience as it presented the chance to interact with distinguished researchers from a range of institutions such as Peking University, China; Kasetsart University, Thailand; Kyoto University, Japan; University of Aegean, Greece; and the Pacific Southwest Research Station, U.S. Department of Agriculture. Finally, I would like to express my deep gratitude towards the Environmental Science Alumni Association for their financial backing, which allowed for my attendance at this significant international conference.
---
November 29 2022
Report of Overseas Meeting Presentation Support (2022 2nd term)
Nathanial Gronewold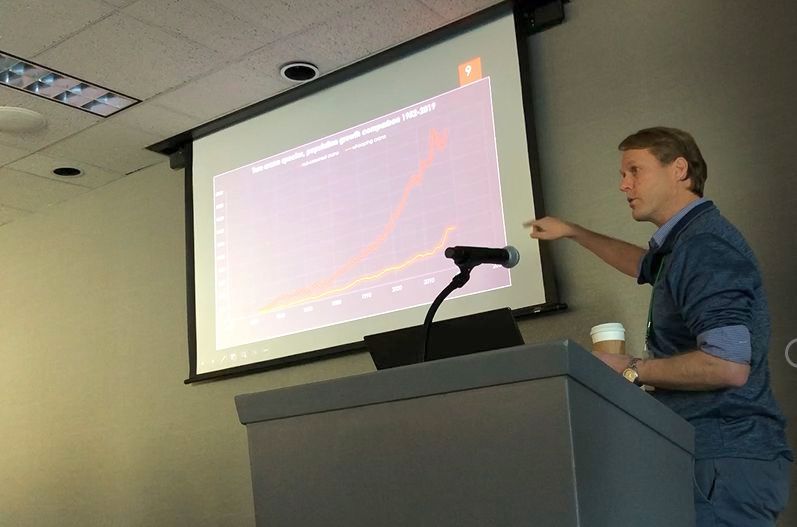 The Wildlife Society, an academic society headquartered in the United States (Bethesda, Maryland), held its 29th annual conference in Spokane, Washington, USA at the Spokane Convention Center from November 6 to November 10, 2022. This year's gathering was The Wildlife Society's (TWS) first in-person conference held since the outbreak of the COVID-19 global pandemic. Last year, the 28th TWS annual conference was conducted entirely online. I attended that conference remotely from Japan to deliver a poster presentation, where I made myself available for one hour during an online poster session to take questions about my research. This year, TWS invited me to deliver an in-person, oral presentation on my ongoing research initiative during the conference session titled "International Wildlife Management" held in room SCC-201AB. I delivered my oral presentation at 13:45 on November 8.
My research is a comparative study of two endangered species management programs involving two closely related species in two different countries: the red-crowned crane of eastern Hokkaido, Japan, and the Aransas-Wood Buffalo whooping crane population of southeastern Texas, USA and northern Alberta, Canada. The two endangered species recovery case studies are very similar in terms of their histories, not to mention that they involve the two closest related crane species. They stand apart in that the population recovery rate; the rate of population growth for the Japanese red-crowned crane has been far higher than that for the whooping crane. As a result, red-crowned cranes now far outnumber whooping cranes today, despite the fact that the two populations were at comparable sizes back in 1950. My research hypothesis is that the winter-feeding program in Japan resulted in much higher rates of reproduction and population growth for the red-crowned crane compared to the whooping crane. During my presentation, I offered evidence for this mainly by ruling out other possible factors that could explain the divergence in population growth rates.
My research presentation was well-received. The presentation was scheduled to last only 15 minutes, with time for questions. I took two questions before we had to move on to the next presenter. About 100 people were present in the room when I delivered my presentation. Other presenters hailed from a variety of countries, including India, Italy, Guatemala, and the United Kingdom. I was the only attendee from Japan at the International Wildlife Management session, and possibly at the entire conference. I attended the conference for two days before I had to fly back to Seattle to eventually catch a flight to Japan.
About 3,000 people in total attended the conference. The event was considered a success by the hosts and participants. The technical services provided by the hosts were adequate and there were no issues or disruptions during my presentation.
I would like to extend my sincerest thanks to Environmental Science Alumni Association for helping to offset the costs of my travel with the generous grant support. It was an honor to represent Hokkaido University The Wildlife Society's 29th Annual Conference. It was a very positive experience and I gained a lot from my participation.
---
October 1 2022
Report of Overseas Meeting Presentation Support (2022 1st term)
INTECOL 2022 Online
Irtifa Alam Nabila
The 13th International Congress of Ecology, INTECOL 2022, took place from August 28 to September 2 in Geneva, Switzerland and online. This internationally renowned congress brings together experts from around the world to discuss environmental issues, global climate challenges, energy, and territorial development. I had the opportunity to take part and present my research work online. My work focuses on assessing Land Use and Land Cover Changes to Detect the Effects of Exploitation on Coastal Ecosystems. It was an incredible experience to present my research findings to a group of knowledgeable researchers and receive insightful feedback from them. I am extremely grateful to the Environmental Science Alumni Association, Graduate School of Environmental Science, Hokkaido University, for providing the 'overseas meeting presentation support' and motivating us to participate through such incentives.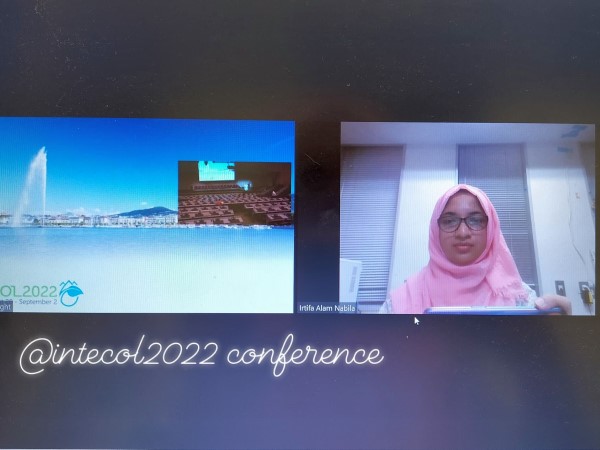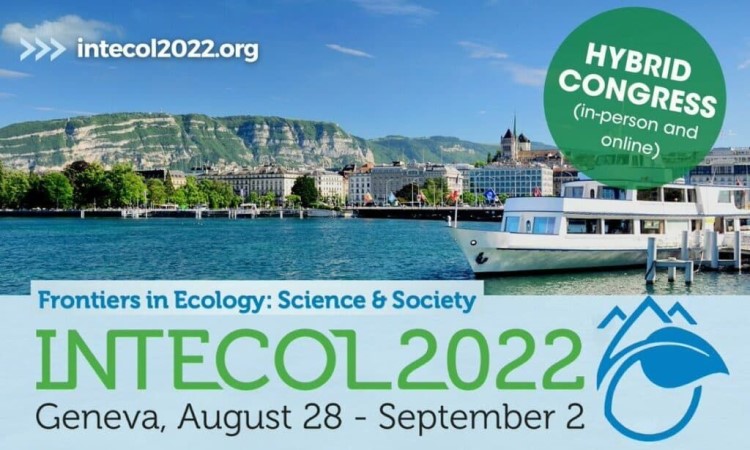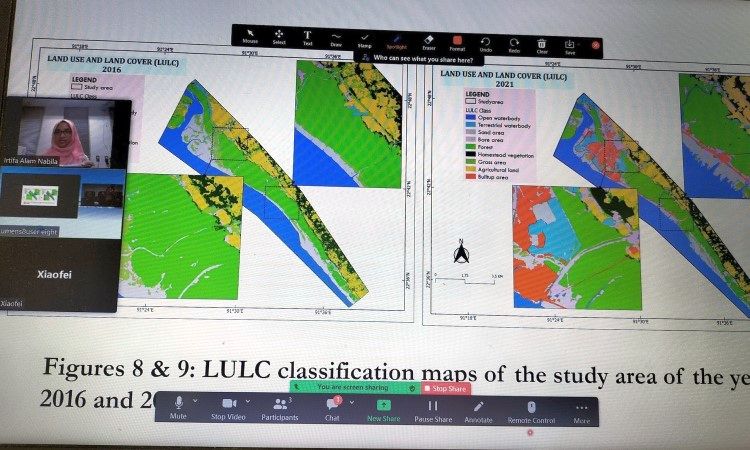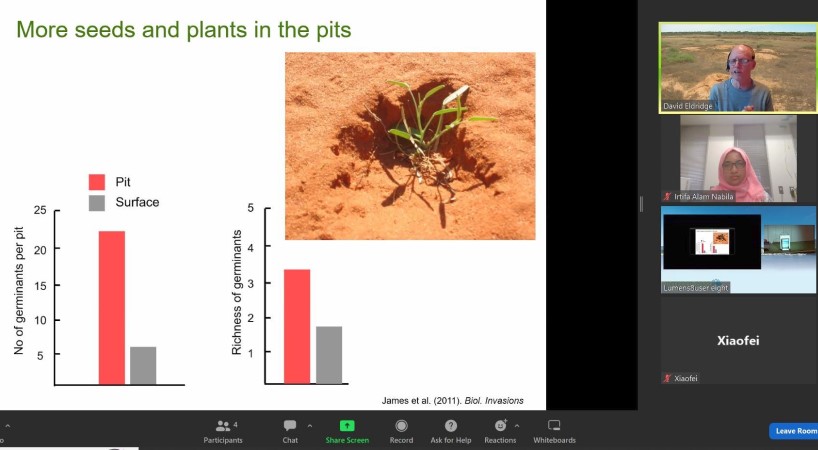 INTECOL 2022 Online
Uemura Yohsuke (日本語版)
---
Report of Overseas Meeting Presentation Support (2021 2nd term)
24th Biennial Conference on the Biology of Marine Mammals (SMM 2022), West Palm Beach, USA
Furumaki Shiho (日本語版)
---
Report of Overseas Meeting Presentation Support (2021 1st term)
15th International Congress of Parasitology (ICOPA2022), Danmark
Hasegawa Ryota (日本語版)
---
June 12 2020
Report of Excellent Student Overseas Visits Program (2020 1st term)
EGU2020 Online
Kenta Tamura (日本語版)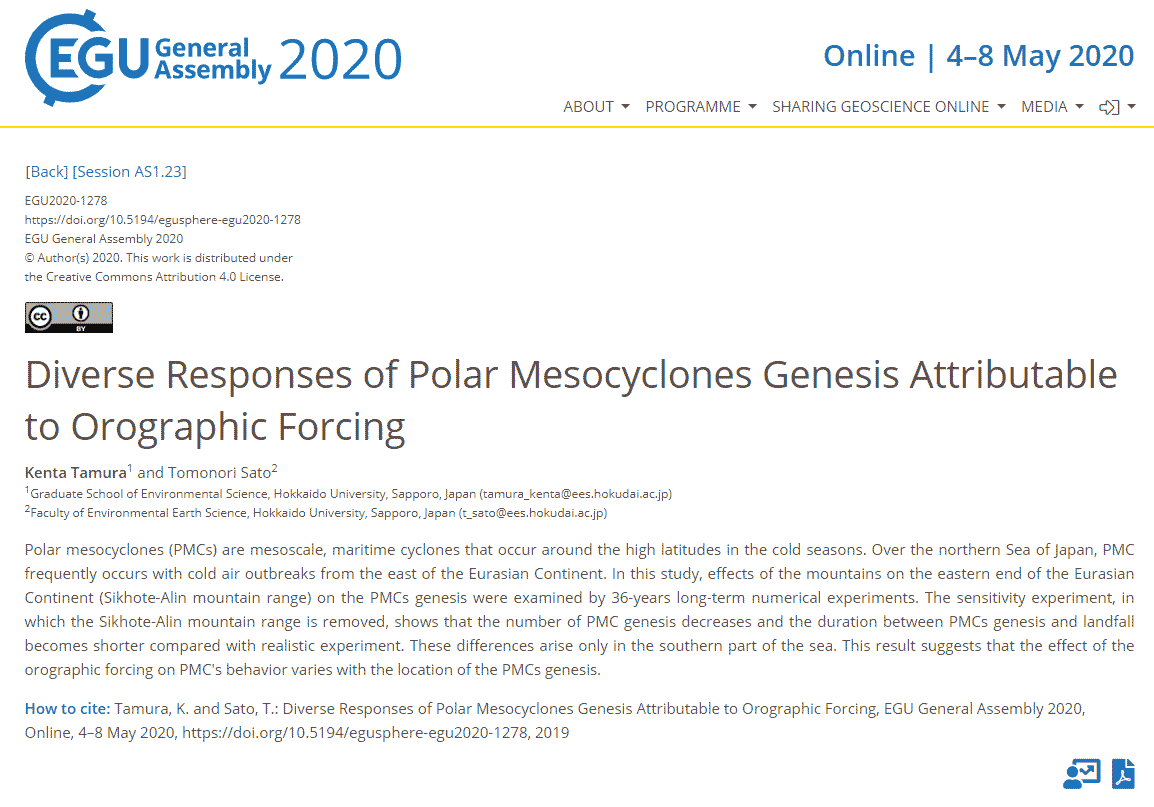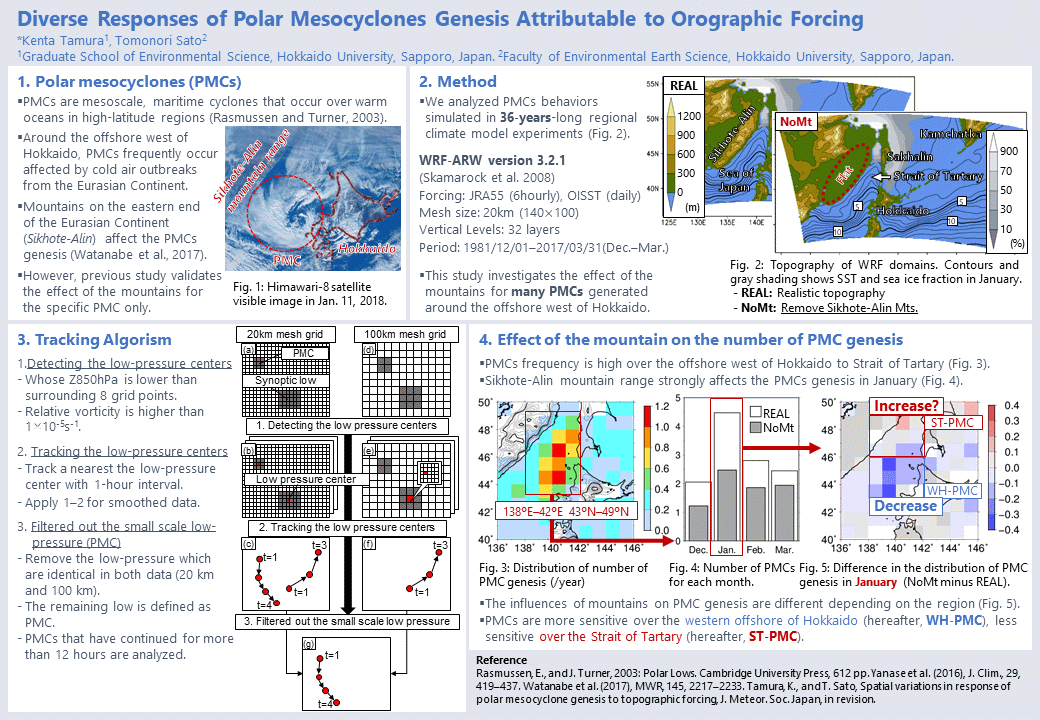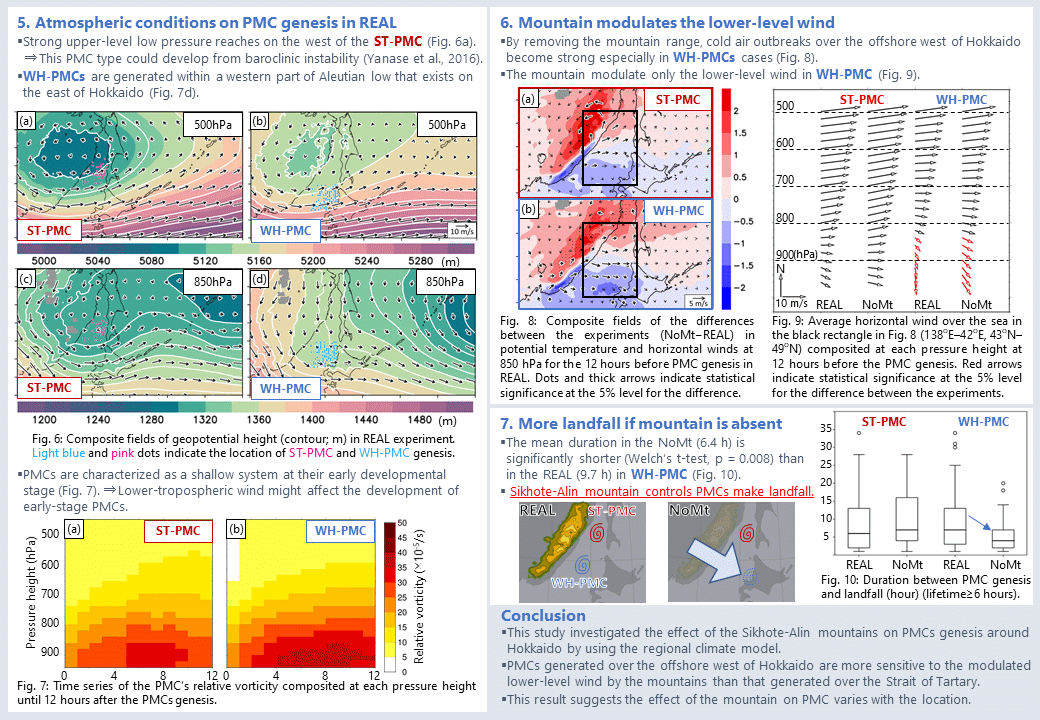 ---
December 19 2019
Report of Excellent Student Overseas Visits Program (2019 2nd term)
World Marine Mammal Conference 2019 in Barcelona, Spain
Yuta Sakuragi (日本語版)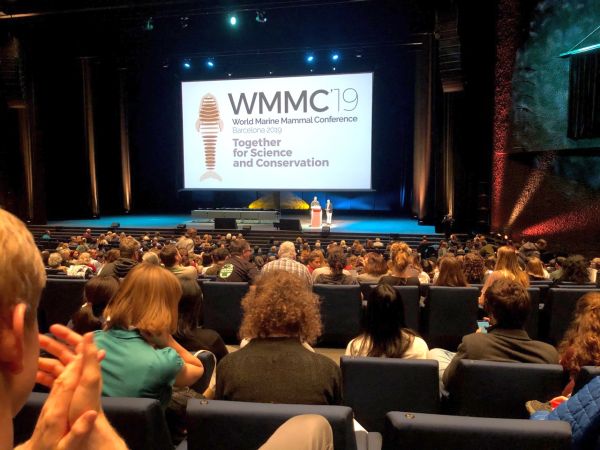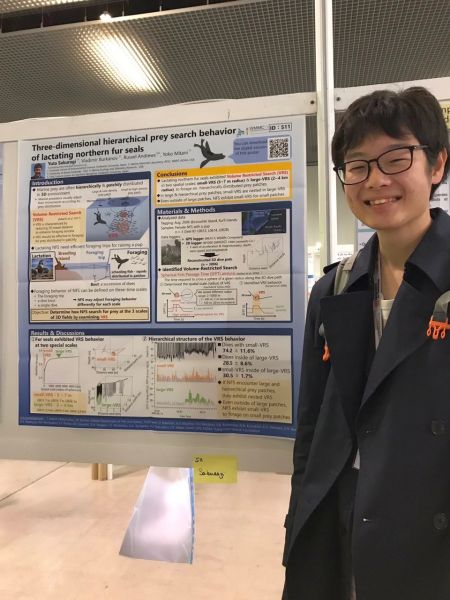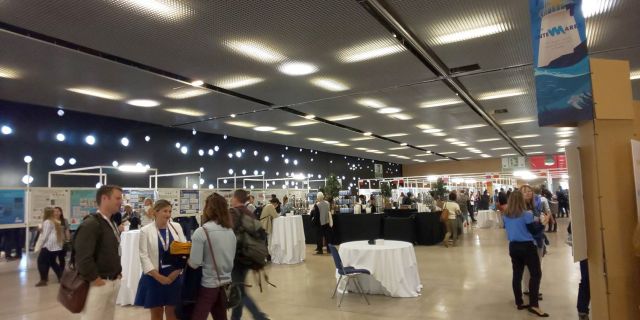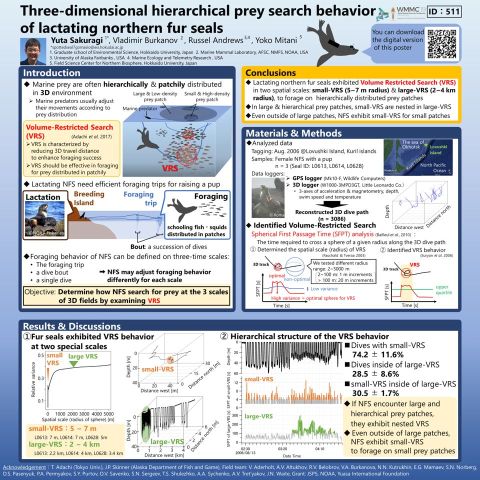 ---
May 13 2019
Report of Excellent Student Overseas Visits Program (2019 1st term)
EGU2019 General Assembly
Ken Kondo (日本語版)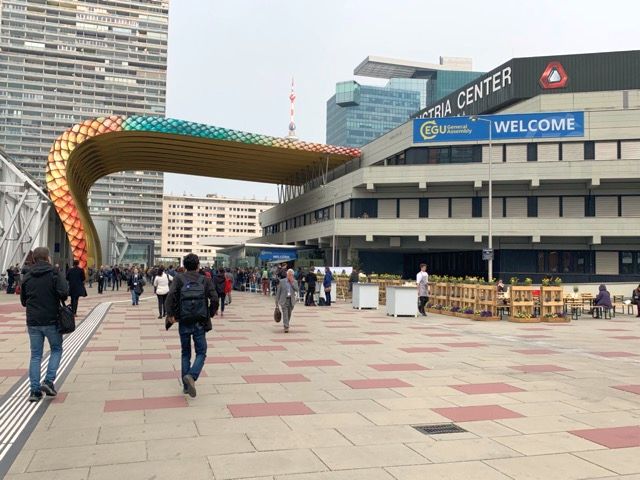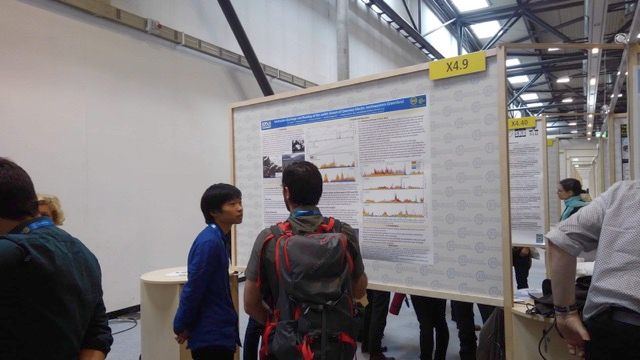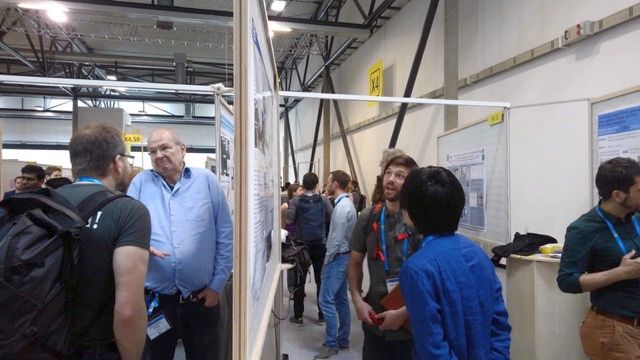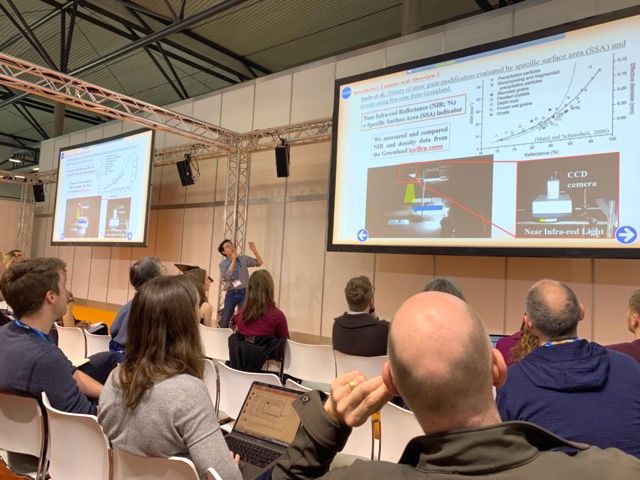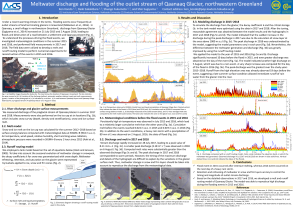 ---
Janurary 9 2019
Report of Excellent Student Overseas Visits Program (2018 2nd term) #2
APC 2018: An Outlook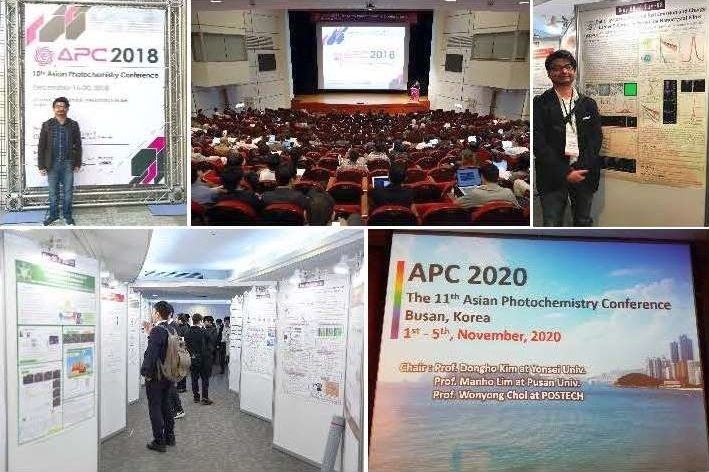 Photo: Some glimpses of APC 2018
In the year 2018, from December 16 to 20, I had an opportunity to participate and present my research work in the 10th Asian Photochemistry Conference (APC) in Taipei, Taiwan. My visit was supported by the 'Excellent Student Overseas Visit Program' promoted by Environmental Science Alumni Association, Graduate School of Environmental Science, Hokkaido University. The conference provided a great platform for young researchers like me to share and learn science, where more than 300 participants from all over the globe came together to discuss various aspects of photophysics and photochemistry, photobiology and photosynthesis, spectroscopy and dynamics, plasmonics and nanophotonics, solar energy materials and photocatalysis, photoluminescent and photochromic materials, bioimaging, biosensing, and phototherapy. The conference was co-hosted by Academia Sinica and National Taiwan University, and more than 300 papers including posters were discussed during the meeting. I presented a poster entitled, "Optically-Controlled Amplified Emission and Charge Carrier Diffusion in Perovskite Nanocrystal Films". My work focuses on the amplified emission from the films of methylammonium, formamidinium or cesium lead bromide perovskite nanocrystals, where the amplification is a result of spatial confinement of multitude of charge carriers generated among closely-packed nanocrystals. It was a wonderful experience to share my research work among diverse audiences and get feedback from them to improve it further. Apart from this, it was also a good opportunity for me to know about Taipei, a vibrant city of Taiwan. As a part of conference program, I participated in the excursion to National Palace Museum, where I had a chance to observe many valuable treasures of Taiwan and the history related to them.
I am very much thankful to the Environmental Science Alumni Association for providing me with the travel grant under the 'Excellent Student Overseas Visit Program'. I suppose, such grants and awards are excellent incentives for encouraging students and researchers to participate and share their work in the international arena. I hope, such support will be continued in the future too.
(
Sushant Ghimire
, Doctor course second year student, Graduate School of Environmental Science and Research Institute for Electronic Science, Hokkaido University.)
---
November 19 2018
Report of Excellent Student Overseas Visits Program (2018 2nd term) #1
The 10th International Conference

on Heme-Oxygenase 2018, Seoul, South Korea
Kaniz Fatima Binte Hossain
Effects of dihydrolipoic acid on mercury toxicity and heme oxygenase-1 expression in PC12 cells. I am feeling proud and thankful to receive this grant "Excellent Student Overseas Visit Program" to attend "The 10th International Conference on Heme-Oxygenase", which held on October 30-November 3 in Seoul National University, Seoul, South Korea. This grant will encourage me and other students of this graduate school in our research life. Because of this grant, I also won the "Young Investigator Award" for outstanding presentation in that conference. I am feeling honored and motivated by receiving this opportunity. (November, 2018, Kaniz Fatima Binte Hossain)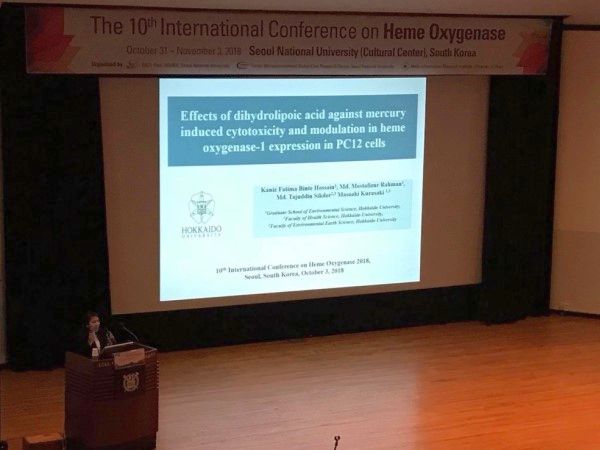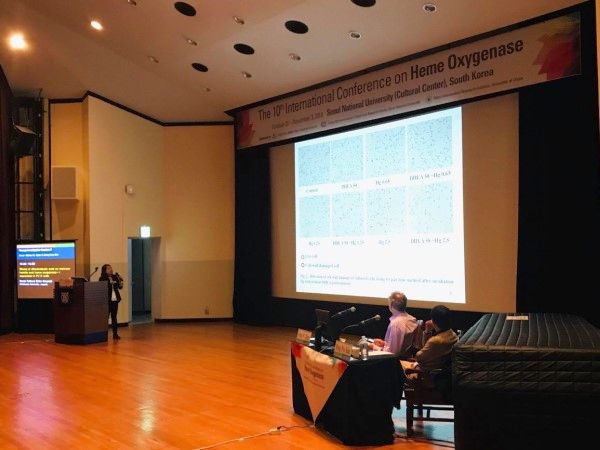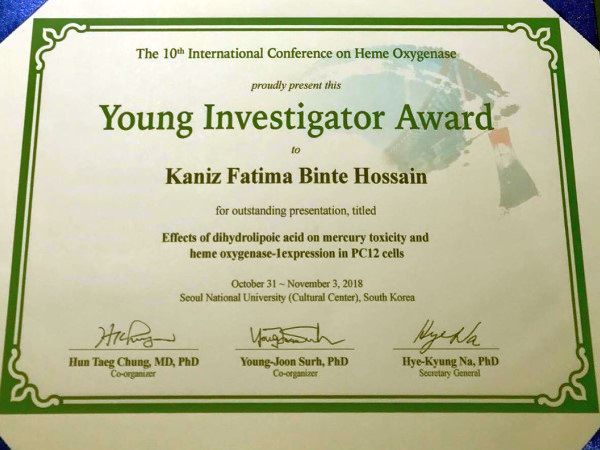 She is the winner of the Young Investigator Award competition. Congratulations!
---
December 27 2017
Report of Excellent Student Overseas Visits Program (2017 2nd term)
AGU Fall Meeting

2017, New Orleans

Can we constrain postglacial sedimentation in the western Arctic Ocean by ramped pyrolysis C? A case study from the Chukchi-Alaskan margin

Kenta SUZUKI (日本語版)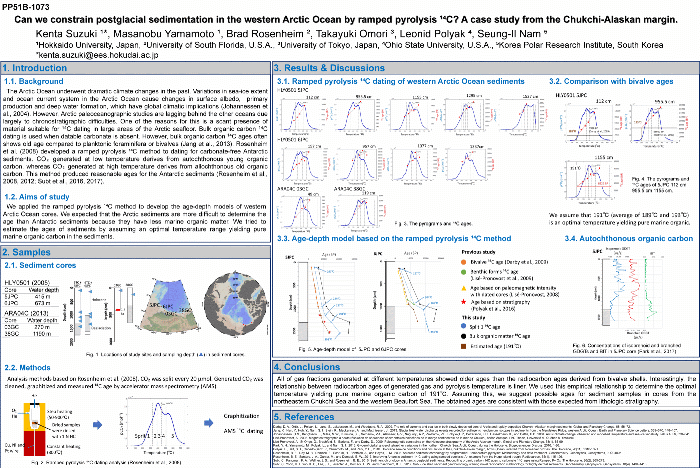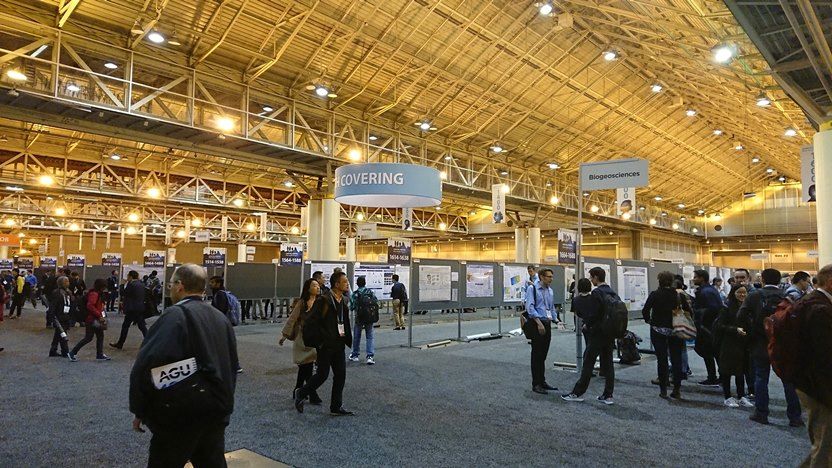 ---
September 29 2017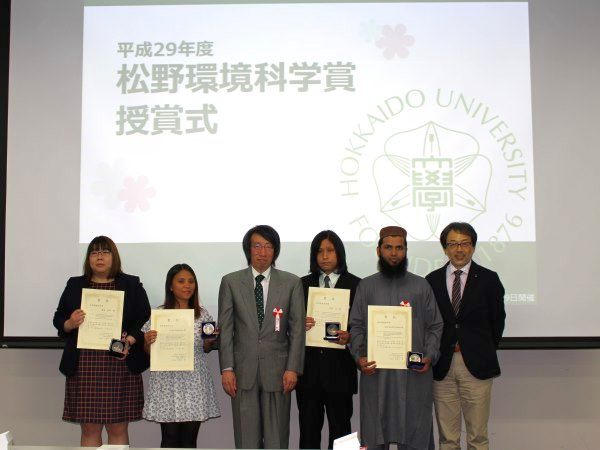 Comments from the winners of Matsuno Awards
Feel proud and honored to be a recipient of prestigious "Matsuno Environmental Science Award" of GSES, 2017, that will encourage me and other students of GSES for conducting outstanding researches to develop a pollution free earth for future inhabitants.
Md. Shariful Islam, Ph.D. (September, 2014)
I am deeply humbled and honored to receive the recognition as one of recipients of Matsuno Environment Science Award. I want to acknowledge the JST-JICA CECAM project (Ecology Group) in the Philippines for being a huge part of this milestone. I ask that national and international students continue to support Hokkaido University (Graduate School of Environmental Science) in advancing the quality of life of our generation and the next.
Venus Leopardas
⇒ Other comments in Japanese
---
September 1 2017
Report of Excellent Student Overseas Visits Program (2017 1st term)
INTECOL 2017, Beijing (August 20-25 2017)
Effects of light on the growth and death of different branching units in crowns of Sakhalin Spruce
Dear Sir/Madam,
First, I am really grateful to the support of the Excellent Student Overseas Visit Program.
I learned a lot during the international ecological conference held on Aug 20-25, Beijing. First, due to the global climate change, the structure and function of terrestrial ecosystems, including forests and grasslands, have changed a lot. For this reason, remoting sensing (RS) and geography information systems (GIS) have been widely applied to address the impacts of climate change on ecosystems. Second, in recent decades, drought events associated with climate warming have contributed to forest decline and mortality in many forest areas. Therefore, many researchers reported the response of individual trees & whole ecosystems to drought stress, mainly focused on plant hydraulic conductance and carbohydrate starvation. At last, I also learned many friends at this conference and benefited a lot from communications to each other.

Kind regards,
Chen Lei
---
September 25 2016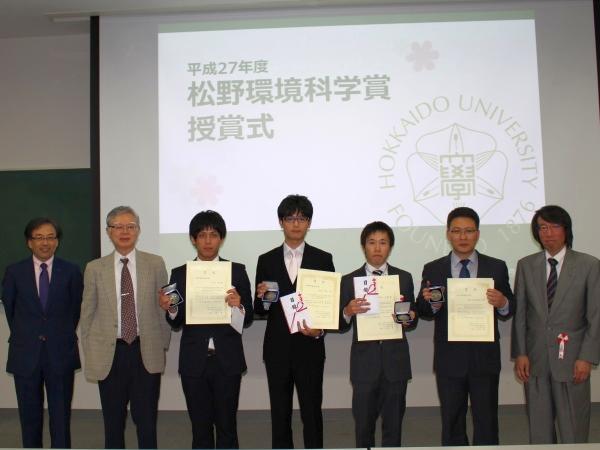 Comments from the winners of Matsuno Awards
Deeply honored and motivated to be the Matsuno laureate of GSES, 2016 and expressing my sincere appreciation to the Alumni Association for their great endeavor to recognize outstanding researches and researchers conducted by the enrolled students of GSES. Proud to be the alumni of GSES!
Md. Tajuddin Sikder
(2013.3 D, DESD)