Glacier Field Course in the Swiss Alps (Special Course on Antarctic Science I)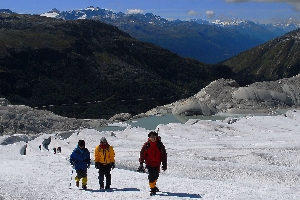 This two weeks field course visits Switzerland to study glaciers and glacierized landscape in the Swiss Alps. The participants work on beautiful Swiss glaciers for field measurements and observations. The program includes lectures on glaciers and climate offered by professors in ETH, visits of research institutions in Switzerland and presentation of field data collected during the course.
Here you can find photographs and a movie about the course in 2009.
Sea Ice Field Course at Okhotsk Sea (Special Course on Antarctic Science II)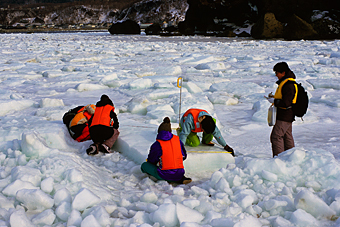 The Okhotsk Sea is the southern end where the sea ice in the Northern Hemisphere exists. Through a field trip to the sites, where we can access to landfast ice and pack ice, and a series of short lectures at a seminar house, this course aims to teach techniques of field measurements of sea ice and oceans, and to understand the physical and biological properties of sea ice and the relationship between ice and ocean.
Learn more about this course.
Course for field skills (Special Course on Antarctic Science III)
Working in the field for scientific measurements is one of the most important and exciting research activities in the cryosphere science. Because of the remote and harsh environment, however, it requires special skills, equipment and experiences. For example, knowledge of crevasses and avalanches and skills of rescuing in the case of accident are crucial to work on glaciers.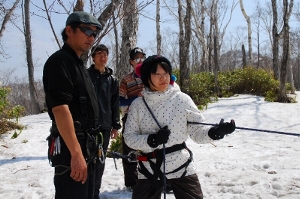 This field course aims to provide an opportunity to learn skills required for the activities in cryosperic environments, such as glaciers, sea ice and high mountains. The program is offered by a professional mountain guide and university staff who have broad experiences of scientific field researches. The course consists of weekly lectures in the school and two field trips to mountains in Sapporo.
Snow and ice course in Moshiri (Field studies in Cryosphere)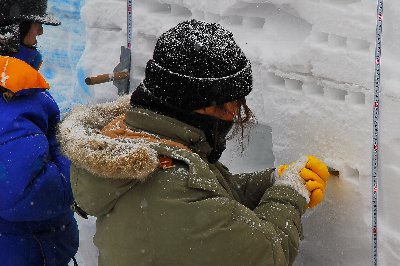 Moshiri, a small village in northern Hokkaido, is well known for deep snow and cold temperature in winter time. This course offers an opportunity to experience field measurements under a cryospheric environment, temperature below -20°C and snow depth nearly 2 m. The program includes snow survey, climatic observations and hydrological measurements in a frozen river. These are unique experiences to learn cryosphere science at the coldest and the most snowy spot in Japan. Participants will be accommodated by a cozy lodging offered by Forest Research Station in Moshiri, Hokkaido University.